WHICH FAN IS RIGHT FOR YOU?
We offer a variety of PPV options because there is no cookie-cutter solution. In fact, here are some factors your crew may want to consider when selecting its PPV fan:
---
How do you plan on powering your PPV?
---
POWER SOURCE
BENEFITS
CONSIDERATIONS

Battery
Battery fans are a great choice for quick ventilation jobs. Compact and lightweight, Super Vac battery fans set up and store easily. Powered by DeWalt or Milwaukee, Super Vac offers cross-compatibility with other tools while producing the least noise pollution (71 dB).
Super Vac battery fans provide up to 40 minutes of runtime, depending on battery selection. Optional shore power provides additional versatility. Battery fan outputs meet or exceed electric fan outputs, depending on model, and Super Vac partners with AMCA to certify airflows.

Electric
Electric fans provide a reliable and perfectly clean airstream with some models being intrinsically safe for hazardous locations. Additionally, electric fans are quieter and lighter than their gas counterpart. Fold-down handles and flat-proof tires make Super Vac fans easily maneuverable.
Electric fans require some setup as cords and generators are necessary to power these PPVs. Electric fans are also bulkier and heavier than battery-powered fans but typically smaller and lighter than gas fans. Departments can opt for a battery fan with shore power, providing crews with another electric option.

Gas

Gas fans provide the highest possible fan airflows, making them a preferred choice for large structures. Gas fans also set up more quickly than electric fans making it a go-to PPV for many first company trucks. These fans provide the largest models starting at 16" and going up to 30," 48" and 80".

Although gas fans are powerful, they can add byproducts of combustion into the airstream. Additionally, these fans require gas, oil and other maintenance, and because they are powered by an engine, gas fans are much louder than battery- or electric-powered fans.

Water
Turbine

Water turbine fans run without the use of electricity or gasoline, making these PPVs great in explosive locations with unknown gases. Available in 16-30", this is the largest portable PPV safe for these environments, making this a fan favorite for docks and shipping facilities.

Water turbine fans require more setup, including 100-250 PSI water supply. Due to this high consumption (65 or 130 gpm, depending on model), it's recommended the water be recirculated. This fan also has less tilt than the Valor battery, electric and gas models.
---
---
---
Super Vac offers the largest breadth of PPVs, spanning from the 8" confined space Nano to the trailer-mounted 80" BFF, powered by gas or diesel engine. To help narrow down your selection, consider how much room you have on your truck to store your fan, evaluate the size and types of structures in your jurisdiction and decide how much output you need from your fan.
---
---
Nano fans are designed to be extremely compact, portable and be used for negative and positive pressure.
---
---
---
The most compact size – fits into the tightest apparatus compartments.
---
---
---
The most popular size – perfect combination of size and power.
---
---
---
Capable of handling larger jobs – great for larger residential structures.
---
---
---
High output for commercial structures
---
---
---
Large Scale PPVs are for the biggest of jobs. Super Vac offers 30″ portable PPVs, 48″ PPVs mounted on trucks, trailers, skid units, and even up to 80″ mobile ventilation unit.
---
---
---
preferred motor or engine
---
Once you've identified your power source and a general fan size, you can select your preferred motor or engine?
---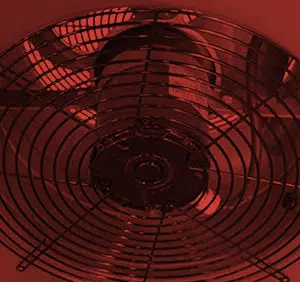 ---
---
---
TEAO (Totally Enclosed Air Over) motors are designed to be used solely in the air stream of the fan or blower they are driving, which in turn cools the motor. TEAO motors have a dust-tight cover and an aerodynamic body. Super Vac offers single, three-phase and variable speed TEAO.
---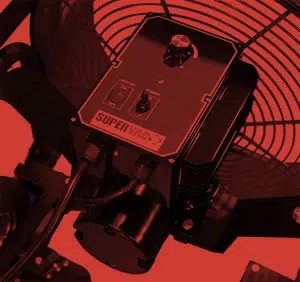 ---
---
The EVS variable-speed provides precise control of air movement and up to 35% more airflow than single-speed electric motors. The EVS is the only variable-speed fan in the industry that will run on GFCI circuits and new hydraulic generators without surging at high speed.
---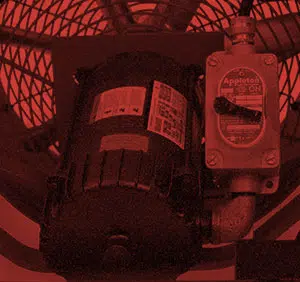 ---
---
Super Vac offers an electric hazardous location motor on both PPVs and blowers/exhausters. These units features the industry's highest level of protection and is listed for Class 1 Group D environments, pairing an explosion-proof motor with an explosion-proof switch.
---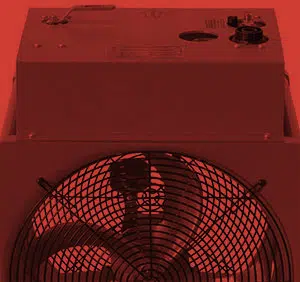 ---
---
---
Also ideal for hazardous locations, Super Vac offers a pneumatic motor in the AF Series blowers/exhausters (Page 5). These units feature a compressed air motor, making these fans intrinsically safe for environments. This motor comes with its own filter, gauge and oiler.
---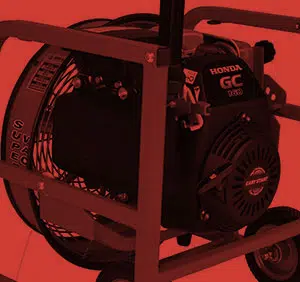 ---
---
---
The Super Vac PPV is available with a Commercial Honda GX or Briggs & Stratton gas engine, ranging in horsepower from
3.5-10 HP.
This gas option is ideal for industrial organizations that
may not have electricity easily or readily available to power their ventilation fan.
---
---
---
Finally, decide what PPV add-ons you need to add more functionality to your fan. Select fans can be equipped with accessories that create light, foam, mist and heat to aid in rescue efforts. Ducting can also be added. For gas fans, we highly recommend spec'ing an exhaust hose extension to remove exhaust emissions away from the gas engine and PPV intake.
---