INDUSTRIAL GAS-POWERED FANS
Looking for a powerful, durable industrial outdoor fan? Super Vac's lineup of gas-powered fans is ideal for industrial jobsites without electricity. Featuring a steel-frame design, these gas blower fans can easily be positioned for positive pressure ventilation thanks to 4-position tilt, fold-down ergonomic handle and flat-proof rubber tires. The PPV fan's one-piece cast-aluminum blade creates a wider airflow (compared to typical industrial exhausters) to help push contaminated air through a strategic exit point.
Choose from a variety of fan sizes and engine choices:
---
PICK YOUR ELECTRIC PPV FAN POWER SOURCE
---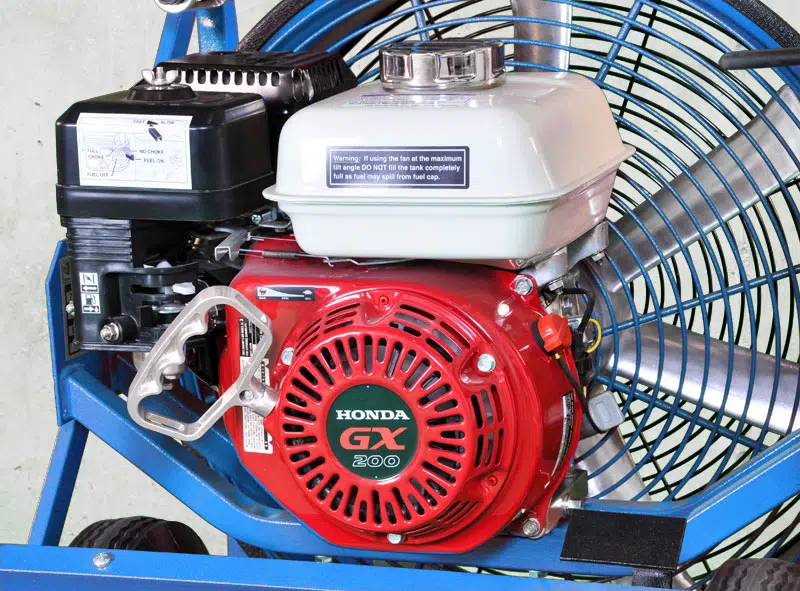 ---
---
Honda GX's commercial line delivers superior performance in an air-cooled,
4-stroke, single-cylinder engine.
Available Sizes:
16" | 18" | 20" | 24" | 30"
---
---
---
The Vanguard engine by Briggs & Stratton is a high-performance,
commercial-grade option.
Available Sizes:
16" | 18" | 20" | 24"
---
ARE GAS FANS THE RIGHT FIT FOR YOU?
---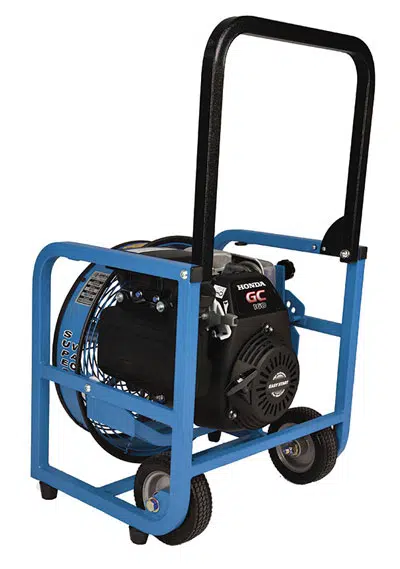 ---
---
Click model number for spec sheet. Click the OUTPUT calculator to determine the ventilation duration of a room.
---
×
How to use
Ventilation Duration Estimator
Select unit of measure:
---
Scroll right for full chart
---
GAS PPV
BLADE
SIZE
WEIGHT
DIMENSIONS
H

x

W

x

D
MOTOR
Displacement
RPM
SETBACK
ANGLE
OUTPUT

Briggs Vanguard

716G4i-B
16"
68 lbs
31 kg
20" x 20.5" x 16"
510 x 520 x 405 mm
Vanguard by Briggs & Stratton
127 cc
3,450
6 ft
1.8 m
18º
9,940 cfm
16,890 cmh
718G4i-B
18"
84 lbs
38 kg
22" x 23.5" x 19.5"
560 x 600 x 495 mm
Vanguard by Briggs & Stratton
205 cc
3,770
6 ft
1.8 m
18º
14,860 cfm
25,247 cmh
720G4i-B
20"
94 lbs
43 kg
25.5" x 26" x 19.5"
650 x 660 x 495 mm
Vanguard by Briggs & Stratton
205 cc
3,385
6 ft
1.8 m
18º
17,235 cfm
29,282 cmh
724G4i-B
24"
120 lbs
55 kg
28" x 29.5" x 21"
710 x 750 x 535 mm
Vanguard by Briggs & Stratton
306 cc
3,245
6 ft
1.8 m
18º
21,100 cfm
35,850 cmh

Commercial Honda

716G4i-H
16"
74 lbs
34 kg
20" x 20.5" x 16"
510 x 520 x 405 mm
Honda GX120
118 cc
3,530
6 ft
1.8 m
18º
11,740 cfm
19,945 cmh
718G4i-H
18"
86 lbs
39 kg
22" x 23.5" x 19.5"
560 x 600 x 495 mm
Honda GX200
196 cc
3,535
6 ft
1.8 m
18º
15,168 cfm
25,770 cmh
720G4i-H
20"
96 lbs
44 kg
25.5" x 26" x 19.5"
650 x 660 x 495 mm
Honda GX200
196 cc
3,350
6 ft
1.8 m
18º
18,182 cfm
30,891 cmh
724G4i-H
24"
134 lbs
61 kg
28" x 29.5" x 21"
710 x 750 x 535 mm
Honda GX270
270 cc
3,435
6 ft
1.8 m
18º
20,920 cfm
35,545 cmh
730G4i-H
30"
163 lbs
74 kg
39" x 37" x 27.5"
990 x 940 x 700 mm
Honda GX390
389 cc
3,220
6 ft
1.8 m
18º
26,849 cfm
45,616 cmh
---
INDUSTRIAL GAS Fan Request Form
---
Gas Fan Request Industrial Form