FIREFIGHTER VENTILATION TRAINING
FIREFIGHTER TRAINING: VENTILATION TIPS FOR OPTIMAL AIRFLOW
To achieve optimal ventilation fan airflow, consider these firefighter ventilation training tips regarding fan placement instructions and guard option considerations.
---
FAN PLACEMENT INSTRUCTIONS:
---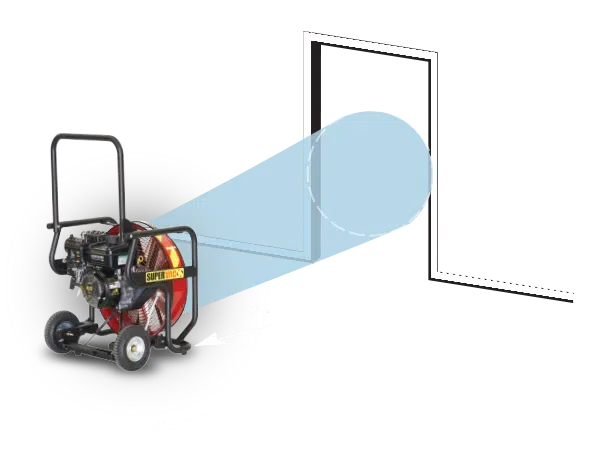 The Air Cone Guard should be set back 4-8' from the door, while the StreamShaper Guard should be 6-15'. To keep ingress/egress routes clear during positive pressure operations, do not locate the fan directly in the doorway. Avoid standing in the doorway as it blocks airflow.
---
---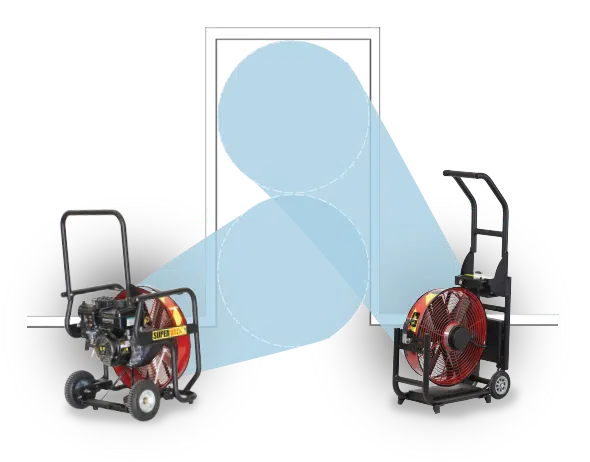 The door is sealed top to bottom with the units at 45° angles in a doorway V-Attack, leaving a straight shot for attack lines.
*Do not block the air supply by standing behind the fan.
---
When using a garage door, open it part way and seal the doorway with the cones of air from two fans.
*Older fan methods, like a Series Attack, aren't as effective as parallel methods.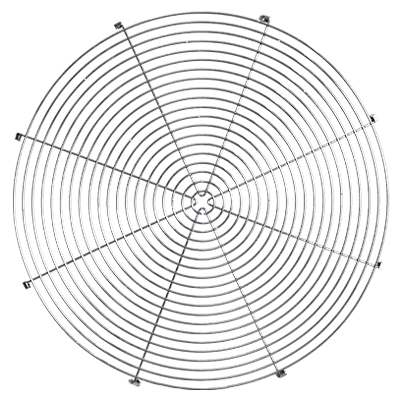 Super Vac's Air Cone Guard
Standard on all 7 Series PPVs
+ Smoke Ejectors
---
The Air Cone Guard produces an air stream with a wider pattern, which creates pressure evenly across the fan's venturi. This pattern is useful for different ventilation scenarios, including open floorplans and large commercial structures, or when there is less room in front of doors, like stoops and small front porches.
---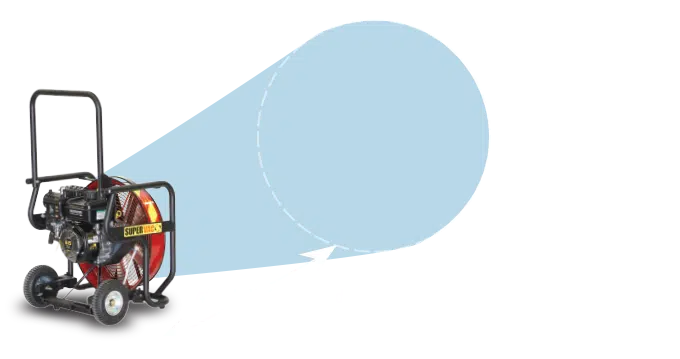 ---
Advantages of the Air Cone Guard
---
Closer setup:

Setback distance approximately 8'

Perfect for:

High-flow situations
Small front porches
Stoops
Urban residential areas with numerous steps that limit space
Narrow walkways in hotels, apartment complexes, etc.
Hallways in hospitals, office buildings, etc.
Rear entrances with decks

Slightly less expensive and less weight
Great for use in V-Attack
Super Vac quality, backed with a 5-year warranty
---
SUPER VAC'S
STREAMSHAPER GUARD
Standard on all Valor Series PPVs
The StreamShaper Guard has a narrower air stream, which creates more pressure in front of the fan shroud, ideal for departments that need a precise airflow, usually in high-rise buildings and floorplans with numerous small rooms. This guard can be set farther from the building entrance, leaving more room for personnel to enter and exit the building.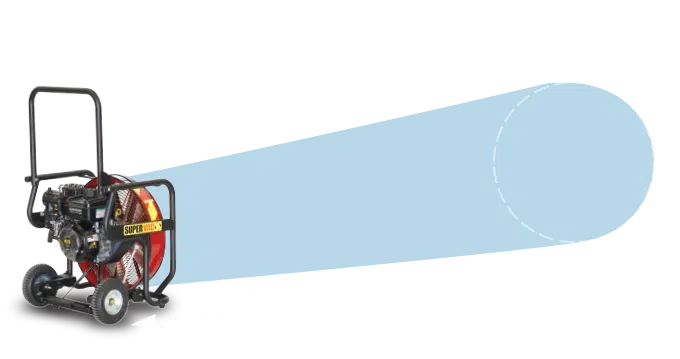 ---
---
Advantages of the StreamShaper Guard
---
Farther setup:

Setback distance up to 18'

Perfect for:

High-pressure situations
High-rise buildings
Homes with multiple small rooms
Buildings with fewer entrance steps

More room for operations at entrances
Creates less noise
Provides slightly higher airflow
Great for use in V-Attack
Super Vac quality, back with a 5-year warranty
---
---
DUCTING METHODS OF VENTILATION
It's important to that when a ventilation fan is ducted, the amount of airflow decreases with the addition of the duct and every bend.
This diagram helps illustrate example bends and airflow reduction.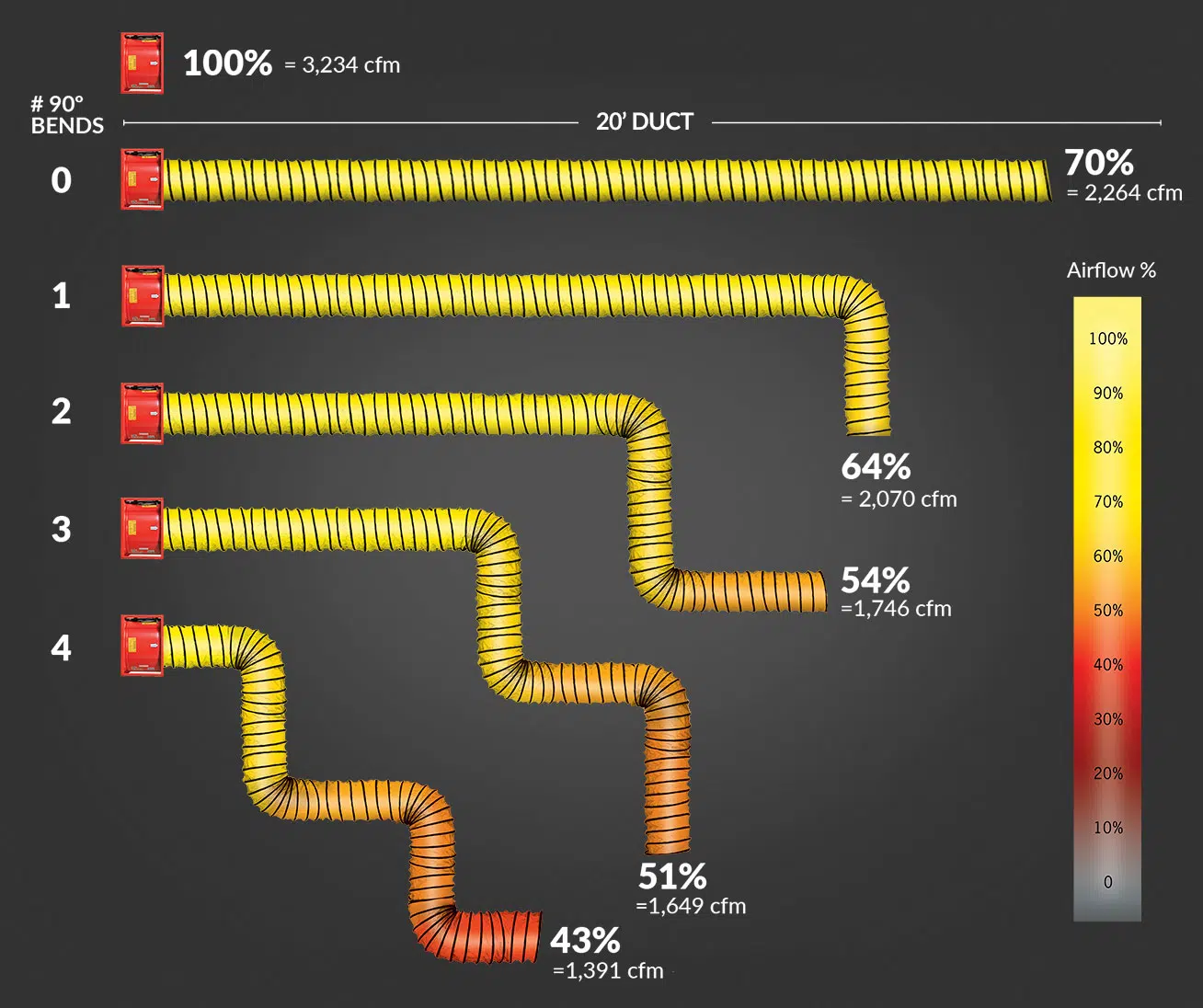 *Values shown when connected to Outlet of a P164SE Ventilator. When connected to Inlet of Ventilator, an additional 10% reduction can be assumed.*
For more than 100 years, AMCA has been a recognized authority for the development of standards and measurement of air movement. At Super Vac we're proud to back our numbers with AMCA-certified verification.