HANG OR TILT YOUR VENTILATION FAN
WITH OUR FAN MOUNTING ACCESSORIES
Super Vac offers a variety of fan mounting accessories to further direct your fan's airflow, allowing you to hang or tilt the unit based on accessory. Choose from our Fan Hanger / Door Bar combo or select one of our industrial stands.
---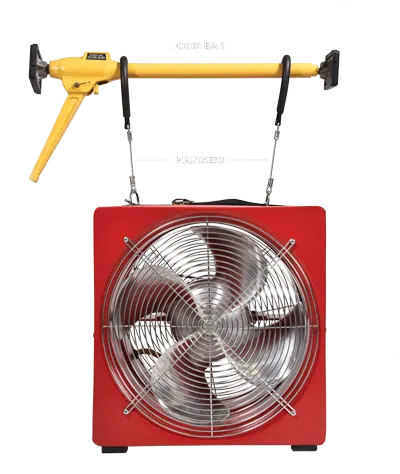 Super Vac's Fan Hanger allows crews to hang a smoke ejector or battery fan from virtually anywhere — from ladders and inside doorways, windows, basements, archways and more. Used in conjunction with the Door Bar, these two accessories permit fan placement at any height for elevated airflow. Meanwhile, the Door Bar deploys easily and features a pull trigger for quick release.
---
Model
Weight
Usable Range
DOOR BAR
13 lbs
6 kg
26"- 60" with extensions
| Model | Pairs with |
| --- | --- |
| HR | Battery PPVs and Smoke Ejectors |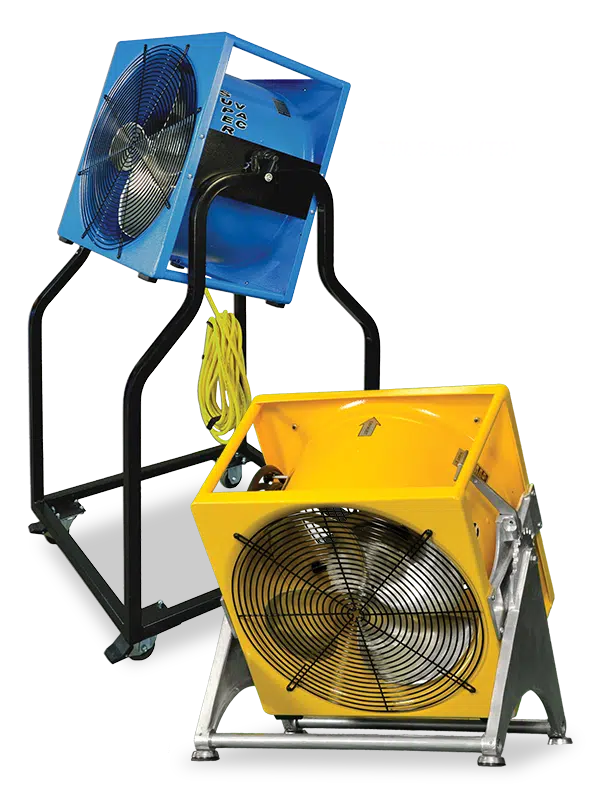 Angle the airflow of an exhauster or smoke ejector with a Tilt Frame (models TF-) or a Tilt Stand (models TS-). Perfect for elevating the fan's air stream to a higher level (positioned in 18-degree increments from blowing straight up or down), the Tilt Frame accommodates 12" and 16" fans, while the Tilt Stand is designed for 20" and 24" units. Our industrial fan stand features a robust wide design to prevent tipping, and your unit can be customized with additional cord length.
---
Tilt Frame
Fan Size
Cord Length
Weight
TF-12
12" Smoke Ejector
10'
38 lbs
17kg
TF-16
16" Smoke Ejector
10'
42 lbs
19kg

TF-124
12" i-Line Fans
10'
38 lbs
17kg
TF-164
16" i-Line Fans
10'
42 lbs
19kg
TS-200
20" i-Line Fans
10'
56 lbs
26kg
TS-244
24" i-Line Fans
10'
64 lbs
30kg
FAN ACCESSORY REQUEST FORM