INDUSTRIAL FLOOR FANS AND
PORTABLE ELECTRIC FANS
---
Super Vac offers a lineup of industrial floor fans and portable electric fans that are as durable as they are powerful. Featuring a steel-frame design, these electric industrial fans can easily be positioned thanks to 4-position tilt, fold-down ergonomic handle and flat-proof rubber tires. Use for shop cooling or opt for a hazardous location motor rated for Class 1 Group D environments with unknown gases.
Choose from a variety of fan sizes and motor choices:
---
PICK YOUR ELECTRIC PPV FAN POWER SOURCE
---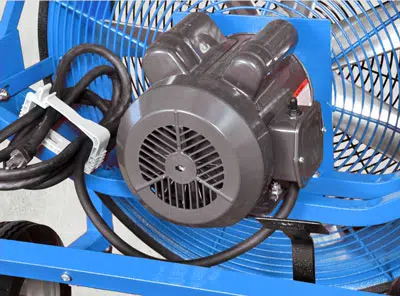 ---
---
This TEAO (Totally Enclosed Air Over Motor) is an affordable, quality option for entry-level electric PPV needs.
Available Sizes:
16" | 18" | 20" | 24"
---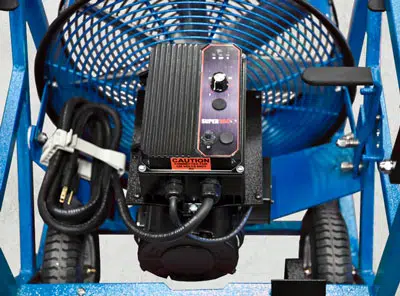 ---
---
This TEAO motor provides precise air control and up to 33% more airflow than single-speed fans.
Available Sizes:
16" | 18" | 20" | 24"
---
---
---
This single-speed explosion-proof motor and switch is designed for potentially explosive environments.
Available Sizes:
16" | 18" | 20" | 24"
---
ARE ELECTRIC FANS THE RIGHT FIT FOR YOU?
---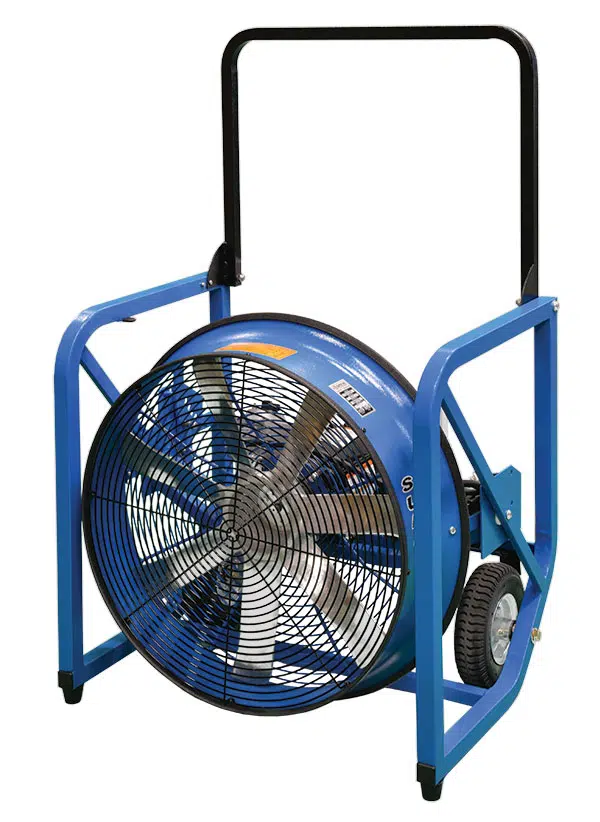 ---
Click model number for spec sheet. Click the OUTPUT calculator to determine the ventilation duration of a room.
---
×
How to use
Ventilation Duration Estimator
Select unit of measure:
---
Scroll right for full chart.
Scroll right for full chart
---
Electric PPV
BLADE
SIZE
WEIGHT
DIMENSIONS
H

x

W

x

D
MOTOR
RPM
START
RUN
SETBACK
ANGLE
OUTPUT

Standard Motors

716-E2i
16"
68 lbs
31 kg
20" x 20.5" x 16"
510 x 520 x 405 mm
Bluffton, single speed,
1 HP, 50/60Hz, 115/230V AC
1,750
4,000 w
15-amp circuit
1,500 w
6 ft
1.8 m
18º
5,890 cfm
10,007 cmh
718-E2i
18"
82 lbs
37 kg
22" x 23.5" x 19.5"
560 x 600 x 495 mm
Bluffton, single speed,
1 HP, 50/60Hz, 115/230V AC
1,750
4,000 w
15-amp circuit
1,500 w
6 ft
1.8 m
18º
6,378 cfm
10,836 cmh
720-E2i
20"
88 lbs
40 kg
25.5" x 26" x 19.5"
650 x 660 x 495 mm
Bluffton, single speed,
1 HP, 50/60Hz, 115/230V AC
1,750
4,000 w
15-amp circuit
1,500 w
6 ft
1.8 m
18º
9,007 cfm
15,302 cmh
724-E2i
24"
104 lbs
47.5 kg
28" x 29.5" x 21"
710 x 750 x 535 mm
Bluffton, single speed,
1 HP, 50/60Hz, 115/230V AC
1,750
4,000 w
15-amp circuit
1,500 w
6 ft
1.8 m
18º
13,320 cfm
22,630 cmh

Hazardous Location Motors

716-EXPi

16"
78 lbs
35.5 kg
20" x 20.5" x 16"
510 x 520 x 405 mm
Bluffton, single speed — hazardous location
rated for Class 1 Group D,
1 HP, 50/60Hz, 115/230V AC
1,750
4,000 w
15-amp circuit
1,500 w
6 ft
1.8 m
18º
5,890 cfm
10,007 cmh
718-EXPi
18"
92 lbs
42 kg
22" x 23.5" x 19.5"
560 x 600 x 495 mm
Bluffton, single speed — hazardous location
rated for Class 1 Group D,
1 HP, 50/60Hz, 115/230V AC
1,750
4,000 w
15-amp circuit
1,500 w
6 ft
1.8 m
18º
6,378 cfm
10,836 cmh
720-EXPi
20"
98 lbs
45 kg
25.5" x 26" x 19.5"
650 x 660 x 495 mm
Bluffton, single speed — hazardous location
rated for Class 1 Group D,
1 HP, 50/60Hz, 115/230V AC
1,750
4,000 w
15-amp circuit
1,500 w
6 ft
1.8 m
18º
9,007 cfm
15,302 cmh
724-EXPi
24"
114 lbs
52 kg
28" x 29.5" x 21"
710 x 750 x 535 mm
Bluffton, single speed— hazardous location
rated for Class 1 Group D,
1 HP, 50/60Hz, 115/230V AC
1,750
4,000 w
15-amp circuit
1,500 w
6 ft
1.8 m
18º
13,320 cfm
22,630 cmh

Variable Speed Motors

716-EVSi
16"
72 lbs
33 kg
20" x 20.5" x 16"
510 x 520 x 405 mm
RAE, TEAO, variable speed,
1.5 HP, 50/60Hz, 115/230V AC
2,400
2,000 w
15-amp circuit
1,500 w
6 ft
1.8 m
18º
9,950 cfm
16,900 cmh
718-EVSi
18"
86 lbs
39 kg
22" x 23.5" x 19.5"
560 x 600 x 495 mm
RAE, TEAO, variable speed,
1.5 HP, 50/60Hz, 115/230V AC
2,400
2,000 w
15-amp circuit
1,500 w
6 ft
1.8 m
18º
10,744 cfm
18,254 cmh
720-EVSi
20"
92 lbs
42 kg
25.5" x 26" x 19.5"
650 x 660 x 495 mm
RAE, TEAO, variable speed,
1.5 HP, 50/60Hz, 115/230V AC
2,400
2,000 w
15-amp circuit
1,500 w
6 ft
1.8 m
18º
13,788 cfm
23,426 cmh
724-EVSi
24"
108 lbs
49 kg
28" x 29.5" x 21"
710 x 750 x 535 mm
RAE, TEAO, variable speed,
1.5 HP, 50/60Hz, 115/230V AC
2,400
2,000 w
15-amp circuit
1,500 w
6 ft
1.8 m
18º
16,370 cfm
27,815 cmh
---
ELECTRIC Fan Request Form
---
Electric Fan Request Form Industrial