SUPER VAC'S HURST®
BATTERY-POWERED FANS
YOUR HURST ARSENAL JUST GREW
COMPATIBLE WITH Hurst® EWXT™/E3™ battery-operated tools
Super Vac has partnered with the top name in rescue tools to bring you the only battery-powered fan that works with your department's other HURST Jaws of Life® battery tools. Introducing the Super Vac V20-BH 20" variable-speed fan, this PPV is powered by dual HURST EWXT/E3 5.0Ah or 9.0Ah batteries, the same batteries that operate HURST eDRAULIC® Watertight Extrication Tools.
---
---
Scroll mouse or click above to rotate product.
---
Compact, Roll-Cage Aluminum Frame:
Features one of the most compact, lightweight PPV designs
---
Fold-Down Ergonomic Handle:
Folds into the frame for compact storage; features full-width handle for easy grip with heavy-duty gloves
---
Highly maneuverable without lifting the fan; easy to deploy by the smallest firefighters.
---
Provides the largest tilt range among battery fans, allowing airflow to be directed virtually anywhere
---
Scratch-Resistant Stair Skid Plates:
Provides ease of movement in high-rise response.
---
Hot Swappable HURST EWXT/E3 IP 58/Battery IP 68 Batteries:
Swaps within 5 seconds; provides up to 60 minutes of max airflow (or 30 minutes per battery), depending on battery selection; optional 120-240V AC operation is available upon request
---
Minimizes weight; Super Vac's single-piece cast aluminum blade is available by request
---
Precision-Spun Steel Shroud with StreamShaper Guard:
---
U.S. Patent No. 11,131,321 and Patents Pending.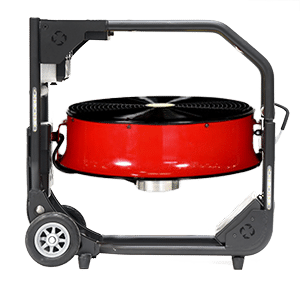 ---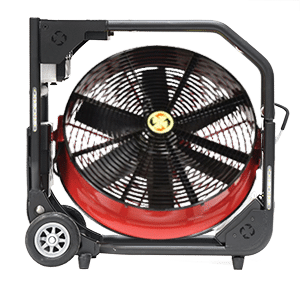 For positive tilt attacks
---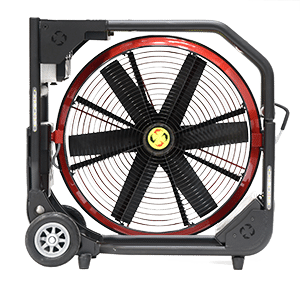 ---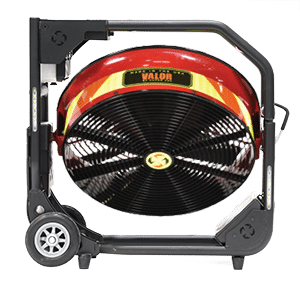 For negative tilt attacks
---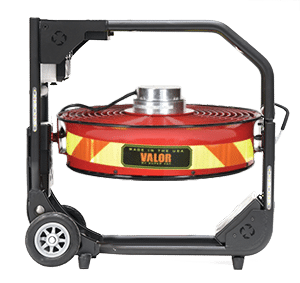 ---
---
Click model number for spec sheet. Click the OUTPUT calculator to determine the ventilation duration of a room.
---
×
How to use
Ventilation Duration Estimator
Select unit of measure:
---
BATTERY FAN
MODELS
BATTERY
COMPATIBILITY
FAN SIZE H

x

W

x

D
WEIGHT
RUNTIME
OUTPUT
V20-BH-SP
HURST EWXT/E3
20″ Blade — 28.25″ x 28.75″ x 12.5″
718mm x 730mm x 318mm
62 lbs
28 kg
Up to 60 min.
12,550 cfm
21,320 chm
---
Battery Options
Battery Type
Run Time At Max Airflow



HURST EWXT/E3 5.0Ah (2)
(Compatible with the eDRAULIC®
Watertight Extrication Tool (EWXT) line)
30 minutes
(with built-in
battery gauge)


HURST EWXT/E3 9.0Ah (2)
(Compatible with the eDRAULIC®
Watertight Extrication Tool (EWXT) line)
60 minutes
(with built-in
battery gauge)
*Up to 60 minutes run time, depending on battery selection. Optional 120-240V AC operation is standard with delete.
---
Charger included in HURST system
Pick either/or:
Dead battery fully charged in:
APLK Battery Pack
25.2V / 9.0Ah Li-Ion 226,8 7S3P
150 min*
APLK Battery Pack
25.2V / 5.0Ah Li-Ion 126 Wh 7S2P
100 min*
* Charge time depends on several factors, such as: Discharge state of the battery, ambient temperature during charging, temperature of the battery pack, age of the battery pack, table below shows the average charging times (at a temperature between 64 º F and 75º F [18º C and 24º C ], when the battery is discharged (undervoltage shut down is reached), or if the discharged battery was stored for a longer period of time, charging time will be extended of approx. 1 hour. The charger starts the charging process in these mentioned cases with a lower charging current, in order to preserve the life span of the battery.
Available for V20-BH BATTERY FANS
---
*HURST®, EWXT™/E3™ and Jaws of Life® are trademarks of Hurst Jaws Of Life, Inc. Used under license. Super Vac's use of these trademarks does not indicate any relationship, sponsorship or endorsement between Super Vac and the owners of these trademarks. Any references by Super Vac to these trademarks is to identify the corresponding third-party products and illustrate the compatibility of those third-party products with Super Vac products and shall be considered classic fair use and nominative fair use under trademark law.