SUPER VAC'S DEWALT® BATTERY-POWERED FANS
THE MOST VERSATILE BATTERY FAN
COMPATIBLE WITH DEWALT® FLEXVOLT® LITHIUM ION BATTERIES
Your battery arsenal just grew! Super Vac's lineup of DeWalt battery-powered fans includes our lightweight 16" variable-speed fan and Super Vac's easy-to-maneuver 18" DeWalt battery fan and our all-new powerful 20" battery fan addition. All work with dual 9ah or 12ah DeWalt FLEXVOLT batteries — the same batteries powering many of the shoring, extrication and forcible entry tools found on today's fire ground, making this one of the best battery fans on the market. In fact, to see just how compatible our fan truly is, check out these FLEXVOLT Fire Rescue Kits and this array of DeWalt-powered AMKUS Rescue Tools.
---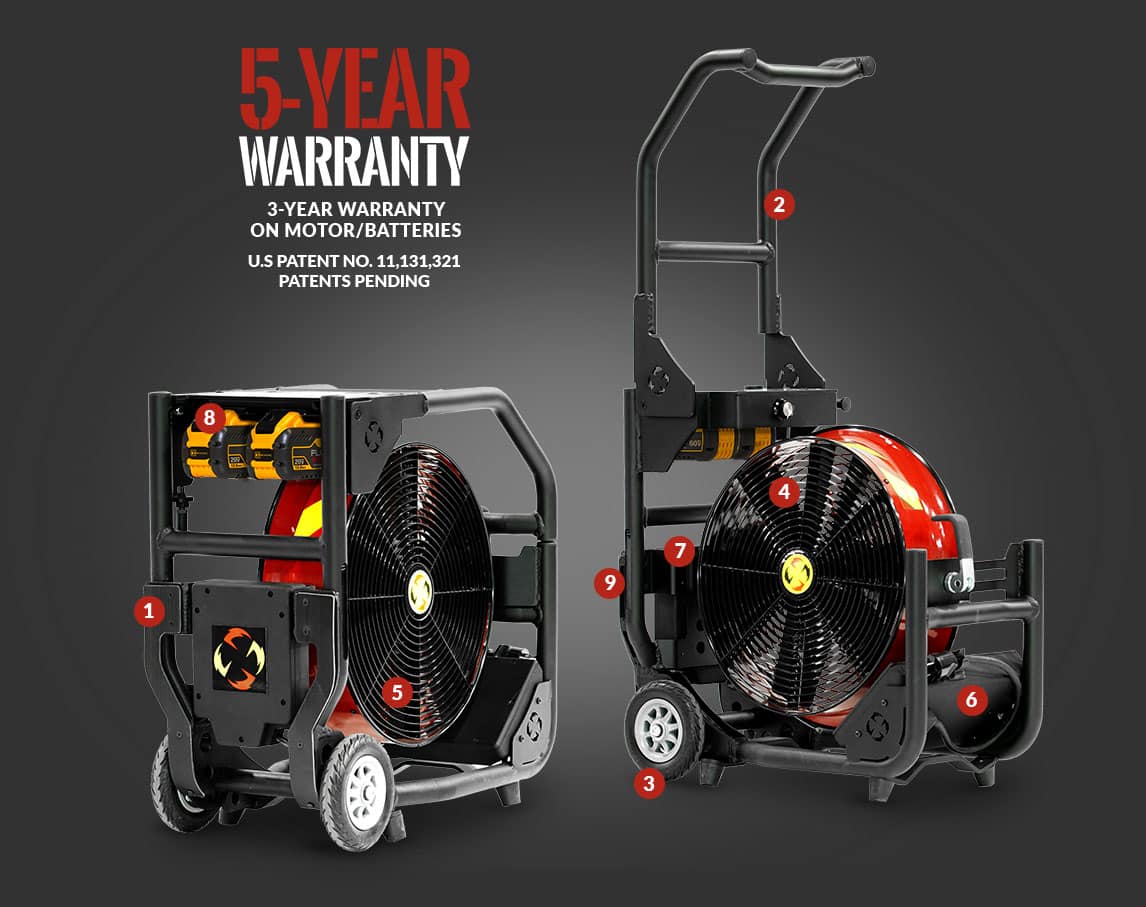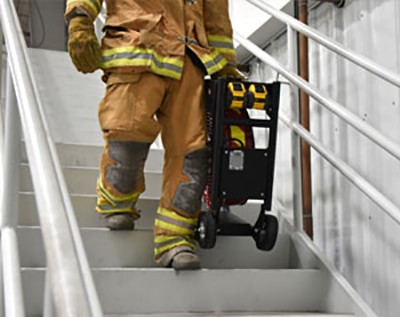 ---
Compact, Roll-Cage Aluminum Frame:
Features one of the most compact, lightweight PPV designs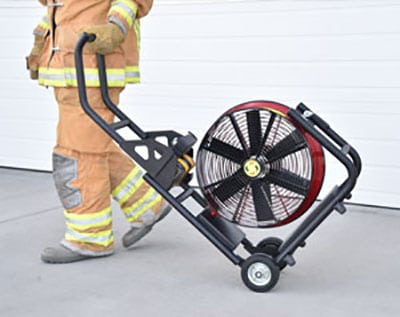 ---
Folds into the frame for compact storage; curved design provides higher grip for better ergonomics
---
Flat-Proof Rubber Tires with
Skid Plates:
Creates a highly maneuverable fan, even on stairs; easy for all firefighters to position
Minimizes weight; Super Vac's single-piece cast aluminum blade is available by request
120-240V AC operation turns your DeWalt cordless fan into an electric-powered fan for even more versatility. Note: Shore power does not charge batteries.
Provides the largest tilt range among battery fans, allowing airflow to be directed virtually anywhere
DeWalt FLEXVOLT Lithium Ion Batteries:
Provides up to 40 minutes of max airflow, depending on battery selection; 120-240V AC operation is standard (with optional delete).
Provides light for firefighters and assists seeing the fan in smokey room.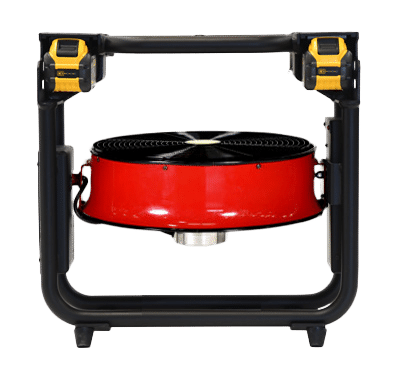 ---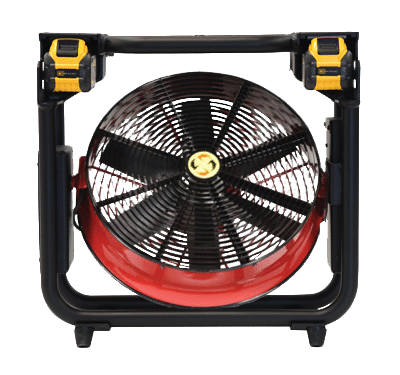 For positive tilt attacks
---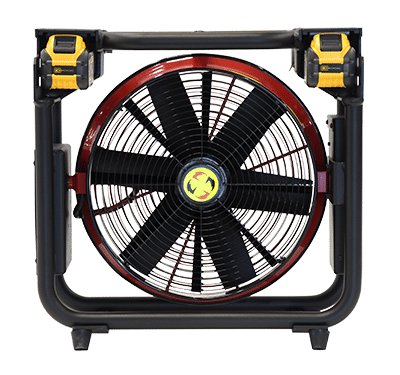 ---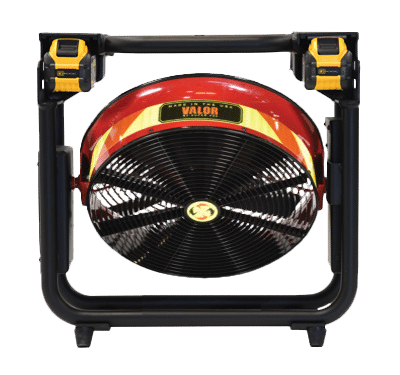 For negative tilt attacks
---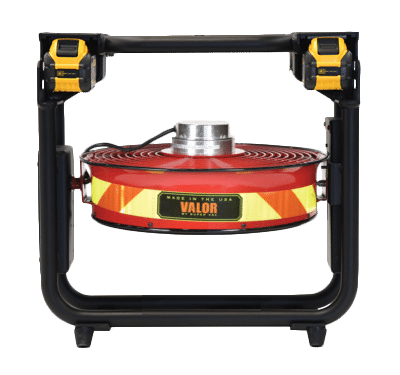 ---
UP TO 40 MIN. OF RUN TIME**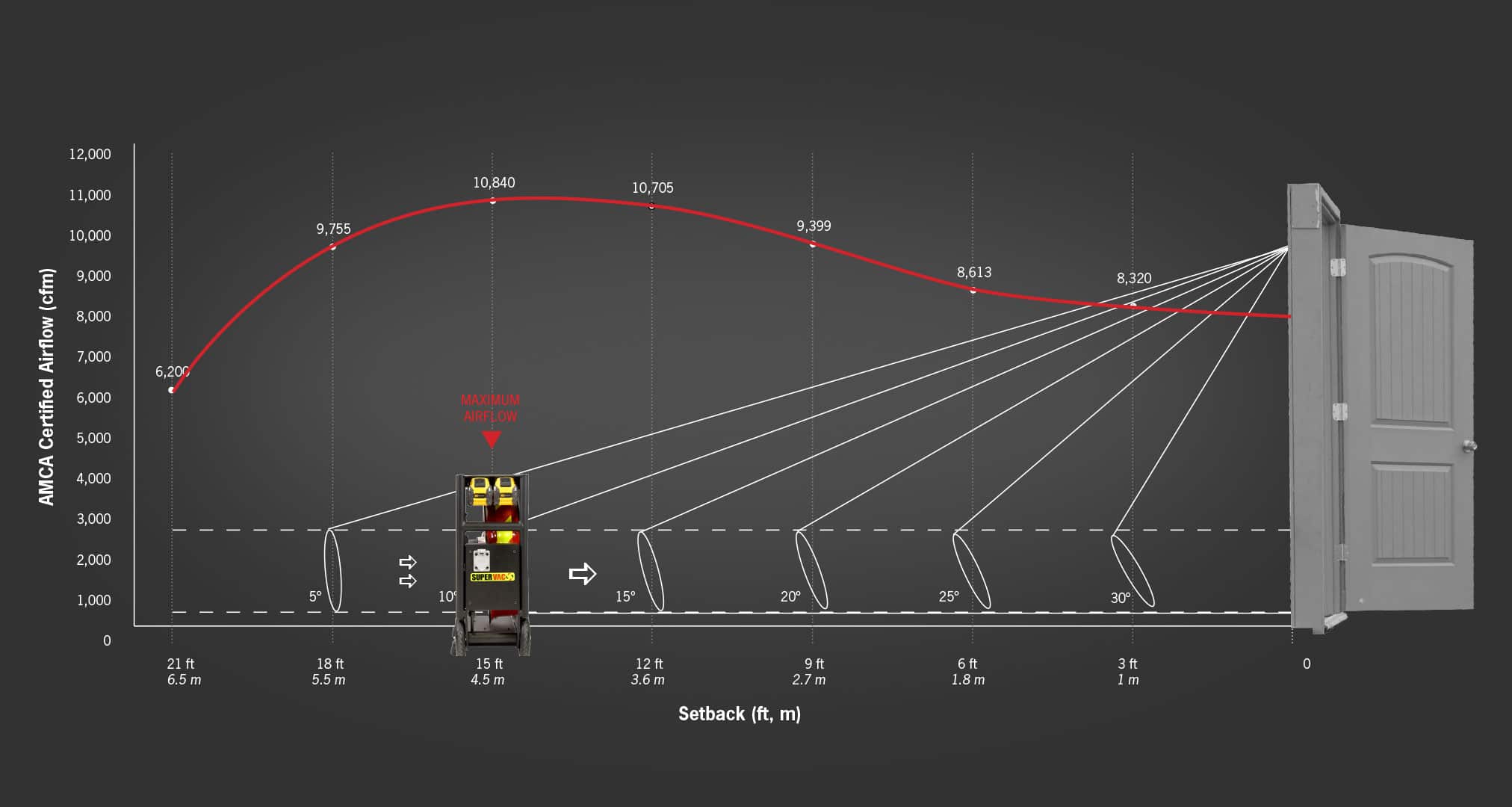 Unlike other brands, we back our numbers with true third-party testing. The ratings below are based on tests in accordance with the Air Movement Control Association (AMCA Standard 240). You'll find this unit proudly listed under positive Pressure Ventilator at bit.ly/PPV-AMCA-certification.
*Cfm based on V18-BD model ** Run time based on battery selection
DeWALT® Battery Fan Options
---
Click model number for spec sheet. Click the OUTPUT calculator to determine the ventilation duration of a room.
---
×
How to use
Ventilation Duration Estimator
Select unit of measure:
---
Scroll right for full chart.
---
Models
Weight
[w/Batteries and Shore Power]
Size
Motor
Setback
For Output Rating
Angle
For Output Rating
OUTPUT
V16-BD-SP

45 lbs
20 kg
16" Blade — HxWxD:
22.75" x 23.50″ x 12″
580mm x 595mm x 305mm
Variable-Speed DC
14 ft
4.3m
5°
9,816 cfm
16,677 cmh
V16-BD-SP-WH
53 lbs
24 kg
16" Blade — HxWxD:
24.25" x 23.75″ x 12.25″
615mm x 605mm x 315mm
Variable-Speed DC
14 ft
4.3m
5°
9,816 cfm
16,677 cmh
V18-BD-SP
58 lbs
26 kg
18″ Blade — HxWxD:
25.75″ x 25.75″ x 12.25″
655mm x 655mm x 315mm
Variable-Speed DC
15 ft
4.6m
10°
10,840 cfm
18,417 cmh
V20-BD-SP
63 lbs
28 kg
20″ Blade — HxWxD:
28.25″ x 28.75″ x 12.5″
720mm x 730mm x 320mm
Variable-Speed DC
15 ft
4.6m
10°
13,000 cfm
22,087 cmh
---
Scroll right for full chart.
---
Battery Options
Battery Type
Run Time At Max Airflow

Standard Battery

DEWALT® FLEXVOLT® 9Ah (2)
30 minutes
(with built-in battery gauge)

Optional Battery
DEWALT® FLEXVOLT® 12Ah (2)
40 minutes
(with built-in battery gauge)
**Up to 40 minutes run time, depending on battery selection. Optional 120-240V AC operation is available upon request. ***Batteries required in pairs.
---
Scroll right for full chart.
---
Charger Included*
Pick either/or:
Charge speed
Dead battery fully charged in:
115V AC
Fast Charger
1.5 hours
12V DC
Regular Charger
4.5 hours
*Use only official DEWALT® charging products to charge the FLEXVOLT® batteries.
Available for both V16-BD and V18-BD Battery Fans
---
* DEWALT® and FLEXVOLT® (including logos and icons) are registered trademarks of DeWalt Industrial Tool Co. Super Vac's use of these trademarks does not indicate any relationship, sponsorship or endorsement between Super Vac and the owners of these trademarks. Any references by Super Vac to these trademarks is to identify the corresponding third-party products and illustrate the compatibility of those third-party products with Super Vac products and shall be considered classic fair use and nominative fair use under trademark law.