THE MOST VERSATILE, LARGE-SCALE POSITIVE PRESSURE VENTILATOR IN THE INDUSTRY
THE SVU-50
The SVU is the most versatile, large-scale positive pressure ventilator in the industry.  With a wide array of configurations, this PPV with 6-point, 48″ carbon fiber blade is perfect for ventilating airport terminals, manufacturing facilities, large warehouses, commercial structures and high-rise buildings.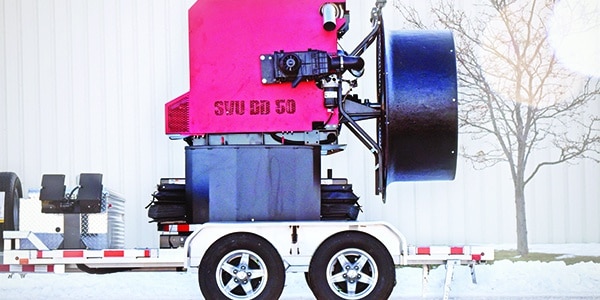 Diesel powered
Powered by a Cummins 3.8 Diesel Engine
Performance: 132 HP (99 kw)
Fuel Consumption: 7.4 gph (28 L/hr)
Fuel Tank Capacity: 18 g (68 L)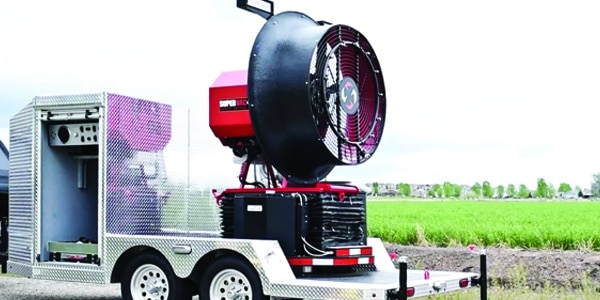 Gas powered
Powered by a Subaru 2.5L 4-Cylinder Gas Engine
Performance: 165 HP (123 kw)
Fuel Consumption: 5 gph (19 L/hr)
Fuel Tank Capacity: 10 g (38 L)
Model / Motor
Weight
Displacement
RPM
Setback
Angle
Output
Diesel
Cummins 3.8 Diesel
1,850 lbs
839 kg
3.0L
2,450
30 ft
9 m
0°
200,000 cfm
339,800 cmh
Gas
Subaru 2.5 L 4 Cylinder
1,540 lbs
703 kg
2.5L
4,200
30 ft
9 m
0°
200,000 cfm
339,800 cmh
5 REASONS TO SPEC A SUPER VAC SVU FAN
1. Raise, rotate and tilt the SVU for maximum airflow control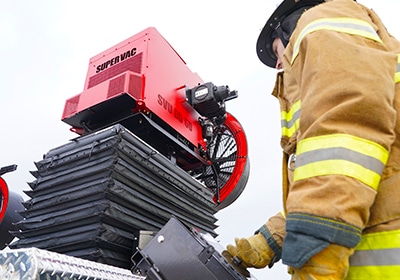 RAISE
Customized to fit your needs, the SVU's scissor lift extends up to 65″ in the air for varying reach.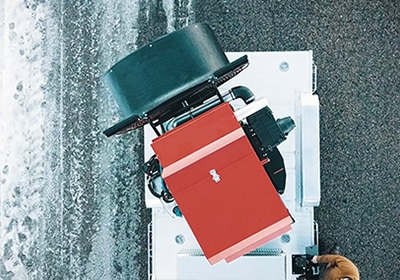 ROTATE
The SVU's electric turntable rotates the fan up to 270 degrees, allowing for directional airflow.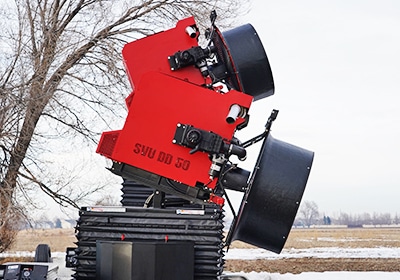 TILT
Further direct airflow. The scissor lift also allows for +/- 20-degree up-and-down tilt.
2. Reduce manufacturing facility downtime during a ventilation emergency

DOWNTIME BURNS …
Downtime can adversely affect these facilities, costing a company $2,500-$5,000 per inoperable minute. If you do the math, that's upwards of:
$5,000 per minute
$300,000 per hour
$2.4 million per day
This diesel SVU produces a 200,000 cfm output to ventilate large structures in a fraction of the time.
3. Mount your SVU for manueverability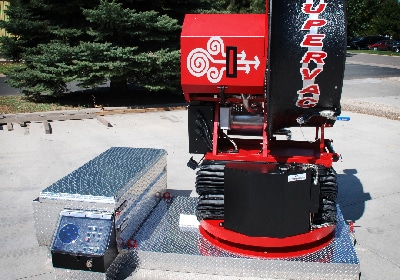 SKID UNIT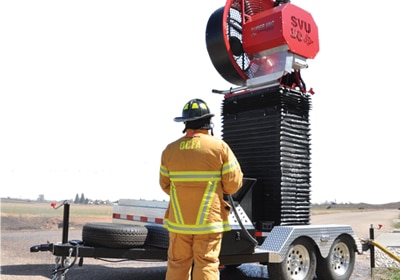 CUSTOM TRAILER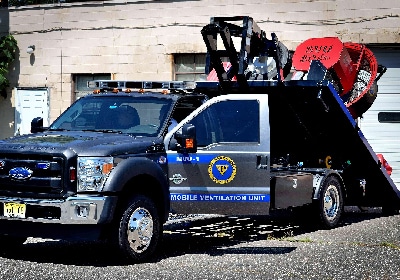 TRUCK OR FLATBED
4. Accessorize your SVU for even more versatility!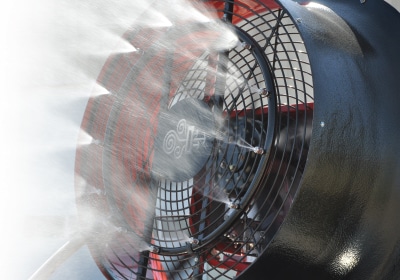 MIST ATTACHMENT
The SVU's optional mister provides 30 gpm of water at 60 psi, perfect for rehabilitation.
LED LIGHTS
Don't let the dark stop you. Illuminate nighttime ventilation scenes with fixed optional LED lighting.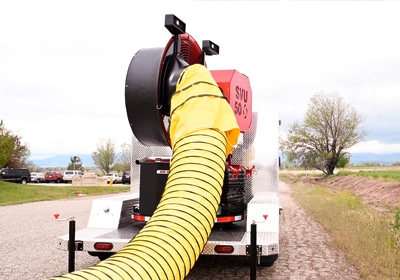 DUCTING
Further direct airflow. Add an optional ducting system for positive and negative ventilation.
5. Plus, the SVU is easy to operate.