GAS-POWERED CHAINSAWS FOR
RESCUE / VENTILATION OPS
Departments turn to Super Vac's lineup of Gas-Powered Chainsaws to tackle a variety of operations, like removing downed trees and cutting through residential roofing. Available with a 16" or 20" bar, these chainsaws are available with the Full-Wrap Depth Guard for added protection or the Quick Silver Depth Guard for reduced weight and ease of use.
Scroll mouse or click above to rotate product.
.404 Carbide Tooth Chisel Chain:
Takes big bites out of multiple layers
Includes momentary contact switch that leaves the saw in the ON position, a compression release that reduces cylinder pressure by 50% and a choke knob that simultaneously sets the throttle and choke
Durable Aluminum Pull Handle:
Designed for thick rescue gloves
Makes front-facing and overhead operations easier
Airmaster Filtration System:
Airmaster Filtration System: Three-chambered system stops large particles before they reach the secondary filter
Lateral Chain Tensioning:
Developed for fast, on-the-go adjustments
Quick Silver Depth Gauge:
Reduces weight and ease of use
Illuminate work area during operation
Scroll right for full chart.
---
SV3
DEPTH
GAUGE
WEIGHT
FAN SIZE H

x

W

x

D
Engine
RPM
Pitch/Gauge
Fuel
Capacity
16"
Bar
SV3-16
Full
20.8 lbs
9.5 kg
11.25" x 13" x 34.5"
285 x 330 x 875mm
Makita Chainsaws 2-Stroke, 78.5cc 5.7 BHP – 4.3 kw
12,800
.404 / .063 in
.063 = 1.6 mm
25.36 oz
.75 L
SV3-16-QS
Quick Silver
20"
Bar
SV3-20
Full
21.6 lbs
9.8 kg
11.25" x 13" x 38.5"
285 x 330 x 980mm
Makita Chainsaws 2-Stroke, 78.5cc 5.7 BHP – 4.3 kw
12,800
.404 / .063 in
.063 = 1.6 mm
25.36 oz
.75 L
SV3-20-QS
Quick Silver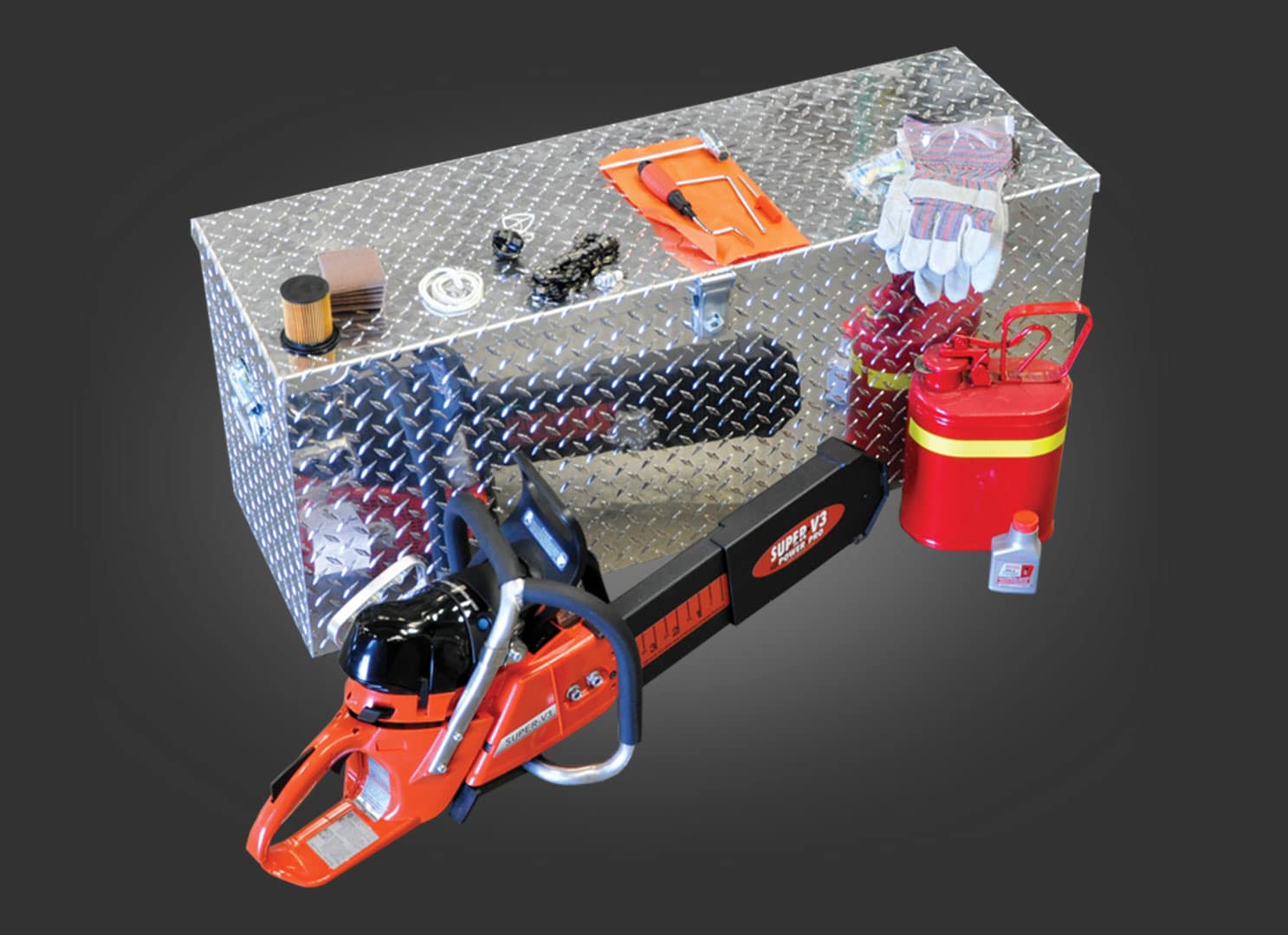 Models: SV3-16-KIT-AL | SV3-20-KIT-AL
---
(1) Saw with D-Ring Handle
(1) Spare Carbide Chisel Chain
(1) Pair of Ear Plugs
(1) Pair of Gloves
(1) Bottle of 2 Cycle Oil
(1) One Gallon Gas Can
(1) Treadplate Storage Box
(1) Drive Belt
(1) Fuel Cap
(1) Starter Cord
(1) HD Air Filter Cartridge
(5) Pre Filters
(1) Spark Plug
---